Engagement
Network of caring
Network of Caring is a significance movement. Many years ago, in spite of their business success, Jim and Nancy Dornan realized that there is no success without significance. Unless you can do something important and transcendent for someone else - something that changes their lives - you really didn't have success in life. The longing in the human spirit to do something significant is the inspiration behind the Dornan's creation of Network of Caring, a Significance Movement.
---
Unicef One by One
For 70 years, across 190 countries and territories, UNICEF defends the rights of every child. Explore their work to see the programs they create on behalf of children.
---
Verein Selbstbewusst
The self-confidence association has set itself the goal of strengthening children in their self-confidence, so that a possible sexual abuse can be prevented.
---
Monastery of the Order of Premonstratensians in Zsámbék
Supporting families in need and schooling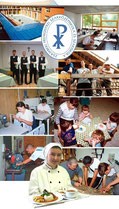 The nuns take care not only of various schools and kindergartens, but also of at least 250 families who live not in poverty, but in misery.
Every Saturday is distributed by the Premonstratensern food. The needy people walk up to 2 ½ hours on foot to get a loaf of bread, a sausage and a liter of milk.
Through our support, clothing, household articles and children's toys can now be distributed to many families.
For Christmas, the monastery invites the poorest of the poor to a small Christmas celebration. Thanks to our help it has been possible since 2012 to give each child a small gift.